About Weaver Quarter Horses
Hi-Line Living - Weaver takes the reins at AQHA
story and photos by Havre Daily News/ Pam Burke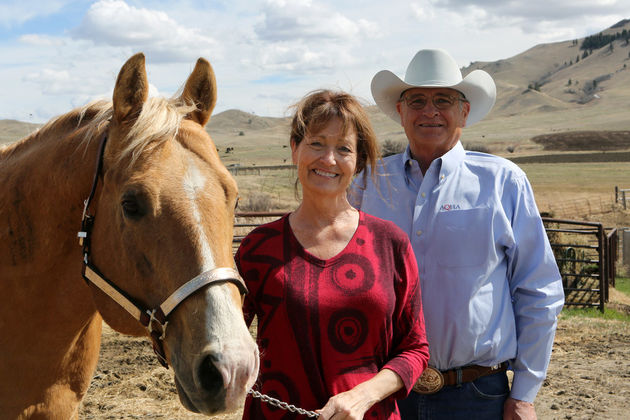 Big Sandy rancher and horse breeder Stan Weaver always wanted to have a production sale, but he never dreamed that his annual sales would lead to him taking the helm of the world's largest horse breed registry and membership organization.
Weaver, who has already served four years on the American Quarter Horse Association executive committee, was appointed committee president during the organization's annual meeting in March. Ironically, though, even at the helm of an organization with an international scope, it's likely he won't travel to as many continents as the quarter horses he's sold have reached.
"Never in my wildest dreams did I think it would do what it's done," Weaver said about the popularity of his ranch's annual horse sale and how it influenced his appointment to the AQHA executive committee.
Weaver's great-grandparents came to Montana in 1887 and started ranching under the A Standing X brand in 1888. He said the ranch he grew up on, located on the south side of the Bear Paw Mountains, about 30 miles east of Big Sandy, is the place his grandparents purchased in 1925.
"I've lived here all my life but the four years I went to school," he said - and now his grand children are sixth generation ranchers there.
He was fully prepared to become the public accountant he trained at Gonzaga University to be, but about the time he graduated in 1974 his mom got sick and his dad asked for help, he said, he and his girlfriend, Nancy, got married and moved back to the ranch.
It wasn't an easy decision to come back because the reason he went off to college in the first place, he said, is because he has had severe asthma all his life. Even as an adult with inhalers and nebulizers to keep his asthma under control, he said, every once in a while, his wife, Nancy, would have to take him to the hospital for two days of intense treatments.
He said finding an asthma medication about 20 years ago, "really changed my life."
Another thing that changed his life was when they bought their first registered American Quarter Horse broodmare in 1980 and decided to breed quarter horses in earnest.
The quarter horse was developed over the centuries in the American West to have instincts for working cattle and the disposition to work as a partner with the rider. They also excelled at short-track racing, which is reflected in the name which references the quarter-mile racetrack they dominate.
The modern quarter horse has proven to be a true all-around breed, he said. They are seen at all variety of equestrian activities beyond the ranch from pleasure riding to barrel racing, carriage driving, horse showing and the diverse cowboy-inspired competitions including roping, working ranch horse, cutting and steer wrestling.
By the late '80s, Weaver said, he had a small herd of registered mares and his own stud, producing their own horses to use on the ranch and to sell. That herd, though, quickly blossomed into more mares and another stud.
"Two studs," he said, and laughed - Weavers have six studs on their ranch this year - but it was a big deal for him at the time and it resurrected his childhood dream of holding a production sale. That and the fact, he said, that he wasn't any good at selling his horses private treaty because he couldn't figure out how to accurately price them.
When he was young, his family raised registered Hereford cattle, he said, and he had liked the idea of having a production sale that would bring buyers in to see and purchase the collection of their featured purebred cattle. That auction sale never happened, and then the family moved on to raising cross-bred cattle.
In preparation for his own sale, he said, he spent two years going to every horse production auction sale he could get to, so he could study how they were conducted and what worked or didn't.
Their first sale of Weaver-bred American Quarter Horses in 1996 was held in Great Falls, he said, and it "went well." Well enough, he and his family have held the auction sale every year since, offering 50 to 55 of his weanlings and a small selection of broodmares and ranch horses.
The sale is a live auction with a live video feed and a phone bank to take call-in' bids, so the technology helps make the sale accessible to a worldwide market.
His horses, he said, have sold to buyers in all 50 states, Canada, Mexico, Australia, South Africa, Germany and Brazil.
"And you know, we've been very fortunate a lot of theses horses have gotten into good hands," he said, and the horses have done well working and competing, including winning top state and national honors.
They also still sell horses to people "who just like to ride good horses," he added.
People love quarter horses for different reasons, he said, so he produces foals from bloodlines that have proven to excel in different areas.
One trait, though, is a constant in the Weaver horses and it makes this versatility possible, he said.
"I've really, really worked at the minds of these horses for the last 20 years," he said, paying attention to personality and willingness of the weanlings as they work with them before the sale.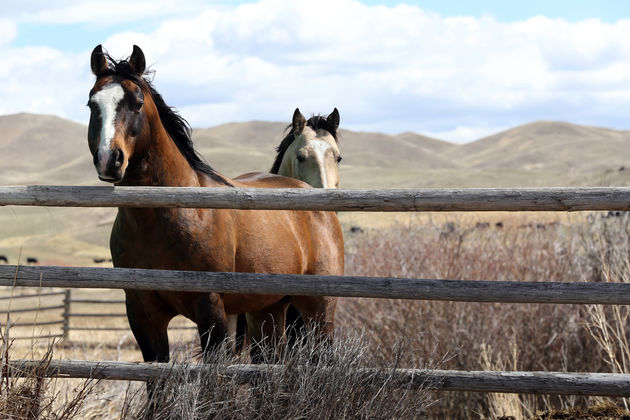 AQHA Executive
A five-member committee governs the decisions of the AQHA. The members, who are each appointed for five years, work their way up in seniority each year, and in their fifth serve as AQHA president, Weaver said. That's where he is now.
People voted onto the AQHA Executive Committee, or EC, are generally invited to run by a group comprising all the organization's past presidents who still want to be active in governance, he said, adding that they act as an advisory committee to the executive committee. EC members have a variety of backgrounds that represent interests in AQHA's five disciplines: racing, ranching, trail riding, showing and timed events.
He said the past presidents recommended him for the executive committee because they wanted someone with a ranch background representing the rise in ranching-focused AQHA competitions, such as ranch horse versatility and ranch riding.
Weaver, who has served AQHA in several leadership positions at the state and national level, had worked in 2008 and 2009 to start the organization's Ranching Heritage Breeders Program. The program celebrates and rewards AQHA ranches that meet membership qualifications: have a registered quarter horse herd used for operating a working cattle ranch, breed for at least five registered foals annually and have been an AQHA breeder for a minimum of 10 years.
The program now has 380 ranch members, he said. The heritage breeder shows and some other competitions reward members' horses competition points, and AQHA gives out high-placing Ranching Heritage bred horse awards in the events.
"It's just recognition, kind of, for the ranchers, and to promote their horses, to try to add value to their horses," he said. "That's what I always tell people - that's our job is to add value to these horses whether it's through records or through winnings or whatever it is."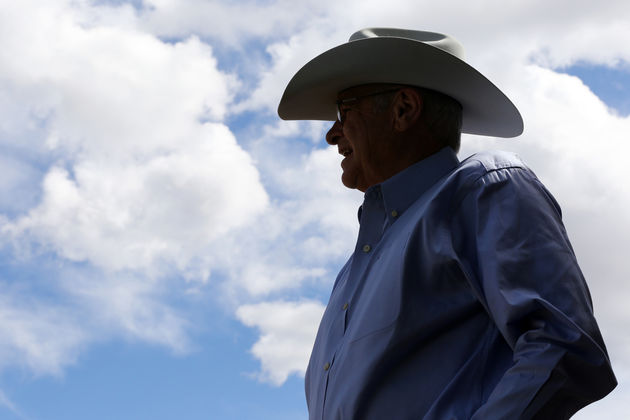 International Organization
The breed is called the American Quarter Horse, but it has grown to be an international horse breed.
"There's AQHA quarter horses in 102 countries, and there's 52 countries that register 50 or more horses a year," Weaver said, "And since I've been on the EC, we've really tried to work on becoming a more international company."
Canada ranks sixth or seventh in number of horses registered, he said, among U.S. states and Canadian provinces. Brazil, where roping events are popular, and Australia have their own registries and the breeders are encouraged to dual register in the U.S.
European AQHA affiliates worked to get reining, at which quarter horses excel, recognized as an official Olympic sport, he said, adding that he went to the AQHA 2018 European Championships in Germany and saw riders from about 18 countries competing.
The growing pains sometimes have been difficult for the breed organization, he said.
"For years and years and years, the AQHA was kind of always the big dog in town, and they expected everybody to come to them," he said. "I don't think we did a very good job of reaching out and helping people — 'You come to us.' It's just a different philosophy now."
He said he is continuing with the EC philosophy that if you want to be an international organization you have to act like one, by working to exchange ideas and see what works in other countries.
"We're all in this to improve the horse and to make the horse better," he said, "and whenever we go somewhere and do something you always think, 'Everybody in the room, the only reason we're here is because of that horse.'"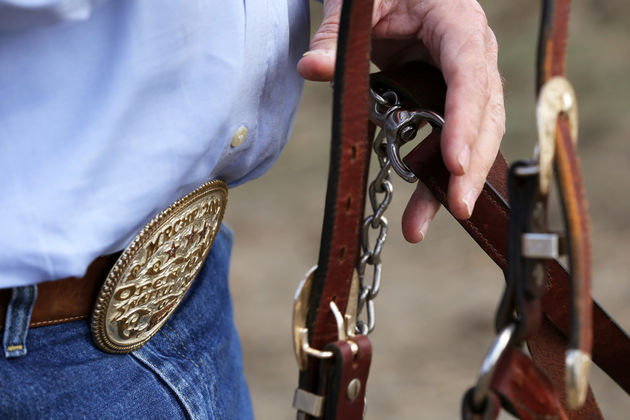 The Organization & The Industry
The day-to-day operations at AQHA headquarters in Amarillo, Texas, are overseen by an executive vice president, Weaver said, and the office employs 220 people in various departments, such as registration, corporate sponsors and the big international department. The office handles about 2,500 calls a day and more than 3,000 on a peak day, he added.
An unavoidable issue AQHA has been dealing with this year is providing good customer service to its members, he said, because of a long overdue computer system upgrade. He said they've been planning and testing for a few years to make this switch, which happened in March, and it has come with all the anticipated unexpected problems.
Understandably, he said improving customer service is his major short-term goal as EC president. They have made some good progress on the system recently, he added.
Not only does AQHA keep an extensive database for the breed registry, but it also tracks competition points earned by members and their horses to calculate year-end awards and to help breeders show the successes of their horses. Part of the upgrade purpose is to help streamline and speed up the data entry and access.
"It takes a lot to gather info and keep it updated weekly," he said. "But again, that's kind of our job is to help people promote there horses. It gets back to the adding value to your horses."
AQHA is also concerned about the welfare of the horses, and the organization started cracking down on issues in the racing and competition industries several years ago, he said, particularly under the tenure of former EC member Dr. Glenn Blodgett, veterinarian for the famed 6666 Ranch in Texas.
"You know, we had some drug issues," he said, "and we've got really strict drug rules now."
The organization has set rules on testing in its sanctioned competitions, including that the winner and one randomly chosen horse earning a ribbon in every class at the annual AQHA World Championship Show in Oklahoma City, Oklahoma.
Two of the better examples of progress in racing are the Oklahoma race tracks, which test almost every horse, he said, and the new owners of Ruidosa Downs race track in New Mexico are implementing drug testing programs, as well.
Progress in racing is complicated, he said, because not only do you have to keep ahead of people trying to beat the system, but also each track has its own rules on testing and each state has its own racing commission setting regulations on testing and allowed drugs.
The EC member next in line for president has done a lot of work with racing so those issues will see another push, Weaver said.
Violators are getting fined and even kicked out of the organization, he said, adding that it's harsh, but "you know you have to" take these measures.
"Our philosophy is whatever's best for the horse," he said.
And it's this philosophy that has helped Weaver look pragmatically at the effects on AQHA from the 2008 economic crash that hit the horse industry as a whole harshly.
In 2006, he said, AQHA registered 164,000 foals, but registration numbers fell to less than half of that after 2008. In 2018, 74,000 foals were registered, he said, and that was the first year AQHA was up in registration — 1,000 more horses from 2017.
"I think it will kind of level out," he said. "I don't think that we will ever see the numbers that we had there for a while."
Weaver, who has spent a lifetime in the livestock production business and succeeded in the horse breeding when many have failed, said that in the end, this past decade has been a good correction for AQHA.
He said building up to 2006, everybody was breeding — "some horses that shouldn't have been" — to build breeders' expanding herds and meet the market demand for buyers.
"It's like anything, the cattle industry, and you know the market's good and everybody wants to get in it," he said, but then "we just over-populated and we got too many, then discretionary income dropped" and that was the end of that unprecedented growth spurt.
"We're doing a better job of selective breeding," he said, adding, "I think we've become a lot better, responsible breeders than we were 10, 15 years ago."
This concentration on being a responsible, selective breeder is what has helped Weavers succeed with their breeding program.
They have helped others interested in the industry, as well.
For their first production sale, Weaver invited his then-young neighbor Una Crowley to sell some of her AQHA foals in the auction. She, joined by her husband Todd Ford, still operates Treasure State Quarter Horses and guest consign about 20 horses in the Weaver production sale every year.
Weaver also struck up a partnership with University of Montana Western after seeing some the university students ride and handle their horses in a competition. He donates a handful of horses to the program every year. The students train and compete with the horses, which are eventually sold as well-broke riding horses in the end.
He said the partnership is good promotion for both Weaver Quarter Horses and for Western's horse program, but he likes helping the students and seeing the horses working well. The Western students also work at Weavers' annual sale, which helps in the labor department, but also gives the students hands-on experience in the horse industry.
"Another thing I'm pretty proud of, the last 5, 6 years, 84 percent of our sales go to repeat buyers," he said. "They don't buy them every year, but they'll come and buy and then when those colts get to be 2 or 3 then they'll come back again."