Weaver Quarter Horses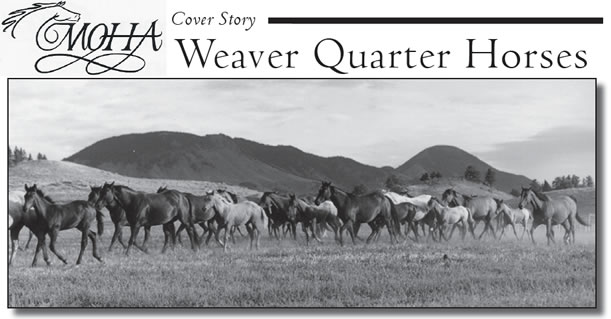 this article reprinted by permission of the MQHA, 2006
In 2005, the tenth production sale for Weaver Quarter Horses took place on the third Saturday in September. John Goggins of the Western Livestock Reporter writes, "This truly is one of the premier horse sales to be held anywhere in the United States. This family knows what it takes to produce the kind of horses with athletic ability, mind, structure and longevity."
If a man is only as good as the horse he rides, then what Weaver has to offer is an elite product from a grounded and nationally recognized reputation. The American Quarter Horse Journal, which featured Weaver Quarter Horses in their annual ranching issue, states, "Stan Weaver's personality is reflected in the horses he raises – strong, solid, honest and kind."
Their exceptional standing in the horse trade aside, the way of conducting business has also brought the Weaver family much recognition. The sale has been highlighted in both the Performance Horse and the Western Horseman as a model for production sales across the country. The September 2000 issue of the Western Horseman ran a sidebar of Weaver's business titled "Tips for producing a production sale" in its "Horse Auction Trends and Tips" feature article. The Western Horseman viewed the Weaver sale as "successful" and "experienced." The sidebar went on to note some of Weaver's most profitable sale aspects, including the power of paid advertising, instilling buyer confidence, and to make the sale the exclusive way for people to acquire your horses.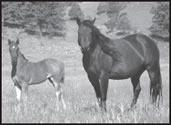 A key to any product is customer satisfaction, and with the number of repeat buyers attending the sale, and over three thousand catalogs mailed out every year, Weaver Quarter Horses has developed a strong foundation for generating interest in their horses and keeping it there. Programs have been built around the country with Weaver stallions and broodmares, as well as the development of successful show careers in all areas of Quarter Horse competitions, including world champions and qualifying finalists.
Weaver feels most of his success came with the purchase of the red roan stallion Ima Bit of Heaven. Sired by Smart Little Lena out of an own full sister to the revered stallion Peptoboonsmal, "Ima" possesses both color and exceptional breeding to pass on to his offspring. He has become the cornerstone of the Weaver operation. In the past five sales, the seventy-five colts sold sired by him have obtained an average of $6,500. Ima Bit of Heaven was listed in the 2005 Equi-Stats as a leading sire of Reined Cow Horse horses. The conclusion of Weaver's stallion battery includes sons of Sun Frost, Lone Drifter, Travalena, Tuf N Busy, and a grandson of the famous Poco Bueno.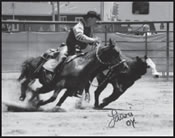 Many horsemen will agree that a program cannot be built on stallions alone. Even the best stallions cannot create champions without a well-bred mother, and therefore the heart of many a horse remuda lies in the broodmare band. For Weaver Quarter Horses this fact is not proven with just several horses, but with a hundred mares of all color with exquisite pedigrees and excellent mothering skills. There is the bay daughter of Travalena, who produced a top-selling filly who went on to show in reined cow horse; the sorrel Doc's Sug daughter who birthed a champion rope stallion; the buckskin Foundation bred mare who produced a record $46,000 high-selling dun weanling who now sires champions of his own. These mares are not the only ones in this class – beside them in the pasture graze daughters of Peptoboonsmal, Shining Spark, Reminic, Smart Chic O'Lena, Tangy Classy Peppy, Doc's Hickory, and High Brow Cat. There are twelve granddaughters of Driftwood Ike in the broodmare band, exemplifying one of the highest concentrations of close up bred Driftwood anywhere in the world. Foundation bloodlines abound as well, mares standing in the sunshine pass on the lineage of Poco Bueno, Doc Bar, King, Blackburn, and Driftwood. To round out the pedigrees are the get of Colonel Freckles, Doc O'Dynamite, Bueno Chex, and Cee Booger Red bred mares. Weaver maintains a half percentage of raised broodmares and a half percentage of purchased bloodlines, upholding the criteria that the horses are of the working cow bloodlines.
"The first thing I look for in a horse is bone and withers," Stan says, "Then I look for straight legs and big hips. We breed for those 14.3 to 15-hand horses. They're big enough to go all day in this country."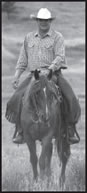 The mares are a uniform set, meeting the physical requirements Stan adheres to, and passing along the genetics of strong, but different, bloodlines. Stan's unique approach is a strong horse physically with good bone and muscle, with a cutting horse mind and athletic ability. The cross has proved to be a revolution in the Quarter Horse business.
"I like the cutting bloodlines, but I've also got the kind of horse I want," Stan says. "It goes back to the bone and withers. Our horses have to work all day and last all day."
The mares are gathered in their bands with a stallion each spring, and they line out for their morning cake in ribbons of all equine shades – red roan, blue roan, black, sorrel, bay, palomino, grullo, gray and dun. In most cases a foal of similar color walks jauntily by their side. Furthermore, with such diverse yet reputable breeding, Weaver Quarter Horses has a horse for every horseperson, whether they aspire to arena competition or are looking for their next trail horse.
The land that has shaped these horses has been in Weaver's family for generations. The ranch was purchased in 1925 by Stan's grandfather, the renowned horseman Elmer Weaver. Elmer was a hand with horses, and as early as the age of fourteen was breaking them for the public. Most pictures of him show a tall man either on or next to a horse with a rope in hand, and he is wearing a cowboy hat consistently cocked to one side. When still a young man, Elmer moved to Geraldine, a growing town on the southwest side of the Missouri River, and acquired a small ranch in 1914. He took with him his experience and love for horses and opened up a livery stable as well. He married LaVona Thomas in the shipping town of Fort Benton on April 26, 1916.
In the fall of 1925, Elmer moved his family from Geraldine to newly acquired land in the Bears Paw Mountains. They came by wagons and horses with Vona driving the Model T Ford. A son, Howard, had been added to the family earlier that year and he slept on the seat next to his mother while older brother Roy sat on the wagon with his father. They crossed the Missouri River at the small community of Virgelle by ferry and the whole trip took several days. Most of Elmer's horses came with them at the time, and he had some hired men help move the cattle over before winter set in. Two more sons came in the following years, Earl Thomas born in 1927 and Arthur Frederick born in 1929.
Horses were not new stock in the Bears Paw. The first settler on Elmer's recently acquired land had raised horses as early as 1880 on its rocky yet green hillsides for the US Calvary stationed at nearby Fort Assiniboine. The brim of a Calvary cap and a decoration pin with the letters US on it were found in the Weaver's front yard when Stan's children were little, backing up the claim. But the Calvary was not the only set of humans to roam these hills. Buffalo wallows in the sides of hills along with arrowheads and chipped pottery prove the existence of Native Americans, predominantly the Blackfoot.
When Stan's father Art, the youngest of the four brothers, took over the homeplace, horses were a lifestyle and raising cows was a living. Art bought out the shares of his two oldest brothers, and Earl continued to live with his family on his share north of the homeplace. Elmer's original 3,500 acre ranch grew to a desirable 10,000 deeded acres under Art's ownership. To keep up with the cattle work in the rocky mountainous region, Art needed good withered, strong boned horses. He purchased his first Quarter Horse mare, a granddaughter of Poco Bueno, in 1959 and raised horses for ranch use out of the breed from that time on. The conformation and cow ability of the Quarter Horse suited the land and the work, and a kinship with the breed was formed.
Upon Art's death in January of 1981, Stan took over the management of the ranch. The deeded land grew to 15,000 acres and at one time Stan farmed roughly 4,500 acres of it.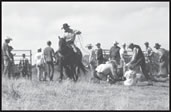 Since Stan is well aware of what he wants out of a horse, he loves what his ranch can provide for them. The ground is rocky and steep with an elevation of up to 5,000 feet. There are a lot of pine trees and brush. The horses are bred to be durable, but they also learn to live in such a way at a young age. The ranch gives the weanlings the experience they need to navigate rough terrain and seldom are they scared of nature, such as running water or a fallen log. These horses have strong bone, good feet and legs, and grow to a perfect height where they can work on any ranch or perform in any arena.
After a drought season in 1988, Stan developed fifteen natural springs with stock tanks and cross fenced several of the larger fields to spread out the grazing. The new fences also worked as a safety net in a way by keeping stallions and their bands sufficiently away from one another, thus reducing any situation with potential injury for the horses. The ranch is mostly dryland grass and hay. During the winter the cows are fed hay and are kept close to the house where a calving shed and brushy fields supply cover and warmth during the cold calving months. The mares are wintered on the mountain range surrounding the home site and feed off of the grasses on bared off hillsides. Mineral is available to all livestock year round.
In early February the mares begin to come off the mountains daily for morning energy cubes called "cake," a feed made up of pressed alfalfa. They are then fed cake through foaling. This band of a hundred plus horses has become easy to handle and calm in their love of this daily supplement. The mares walk eagerly to the pickup and can be coaxed in or out of any situation with a bucket of cake on hand.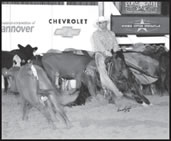 Foaling is done entirely outside, with the exception of early AI mares (who may foal in the snowy month of March) who will sometimes be put into an inside riding arena with stalls to wait out their due date. The other mares, however, rely on their own instincts and a clean bed of grass to foal allowing the foal a natural way into the world with minimal risk of in- fection. Spring mornings prove to be special times as each foaling field is checked, and new arrivals are noted.
The colts also learn from their mothers to cross creeks, climb rocky hillsides, and are exposed to a large amount of wildlife making them very aware and surefooted in their surroundings. What begins here is something that will gather a nation of horse lovers together in September for the sale, each one looking and finding their next performance or ranch purchase.
The reasons for Weaver Quarter Horses' successful sale and reputation are ones that add up to a winning combination – well bred horses, consistent customer satisfaction and hard work that comes from a lifetime and tradition of ranching. The horses in the Weaver remuda are some of the finest in the country, and there is not another venue where such a legacy of bloodlines and history is offered. The present day herd consists of over a hundred broodmares, the most ever. Stan and Nancy Weaver welcome all visitors to their ranch and are available anytime to visit about horses.
Cover Photo By Telicia Weaver
copyright 1998-2007 © 704 Designs & CTNMG; All Rights Reserved; no images, content or layout may be used or reproduced.